How to Foldit, Part 1: What's a Protein?
Hey folders!
Dev Josh here with the first post in a series of tips for better folding. If you've already been playing for some time, you might already know most of this, but I'll try to make sure there's something for everyone to learn. Let's get started!
(A note for readers of the future: if you're reading this after this series was initially posted, I highly recommend giving yourself a few days to a week -- depending on how much you're playing -- between each post. There's a lot to digest here, and you'll gain more from this series if you get some practice in-between posts instead of bingeing everything at once.)
The Basics
In every puzzle, your goal is to make a well-shaped, stable protein. Biology says "form follows function," so a beautiful shape makes an effective, stable protein and vice versa. If something looks wrong -- like it's twisted weird or just kinda spaghetti -- that's probably not how nature would want it. A good protein is neat and compact. It's folded up, hence the name of the game. If a protein were just a long chain, it wouldn't do much; it works by being a particular shape. Plus, proteins don't like empty spaces in the middle of their shape. If there's a gap, they'll naturally collapse into it. But they also don't want to be too tight -- like if you compress a spring, it'll just fly apart when you let go. And that gets to Fundamental Folding Rule 1: Not Too Close, Not Too Far. In Foldit, things too close are "clashing" and empty spaces create "voids." Try not to have too many of either.
Okay, so we want to gently fold it up into a good shape. But what makes a good shape? We're going to need a bit of jargon to talk about that, so get ready. <<I'll put the extra sciencey bits like this, so if you don't care about the details, you can skip these sections.>>
Your protein is made up of a series of segments called residues. Think of it like a long chain of bendy Lego pieces with arms sticking out of each piece. <<Each residue is an amino acid: there are 20 kinds of them in Foldit.>>
The parts of the residues that chain together are called the backbone, while the bits that stick out are the sidechains. Each residue is blue <<(hydrophilic)>> or orange <<(hydrophobic)>>.
Phew! Jargon over. Now we can talk about Fundamental Folding Rule 2: Orange In, Blue Out. Why? For now, you can think of it as oranges are sticky and blues are slippery.<<Of course, at the scientific level it starts to get more complicated as you factor in hydrogen bonds, entropy, and hydrophobic collapse. But we'll save that for later.>>
Your protein will be submerged in water, so it needs a slippery outer coating to move around. The sticky inside helps it keep its shape by holding together like glue. If it had an orange outside, it might stick to something else and pull apart. Imagine making a paper plane with a wad of gum on the right wing. Maybe it would get stuck to the floor and you would try to pull it up, but because the gum is stuck, the whole thing unfolds. If the gum were on the inside instead, the folds would hold well together and it would be less likely to come apart. Remember: the goal is stability.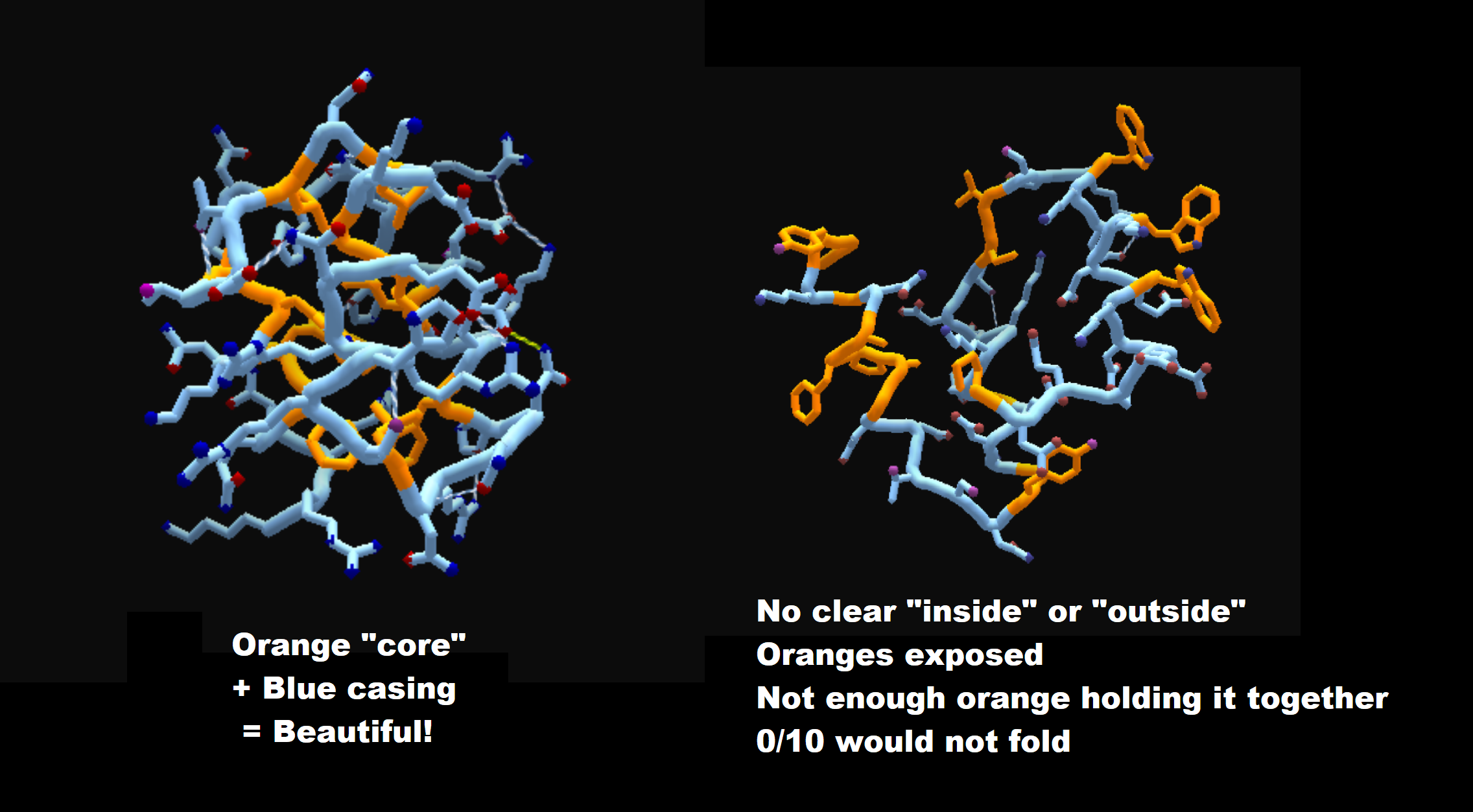 Okay, simple enough. But what if you're stuck with a sequence like this? How are you supposed to move all the oranges to the center?
Let's look closer at the pattern here: 2 orange, 2 blue, 2 orange, 2 blue... Nature is telling us something here -- it's asking for a very particular and common shape, called a helix. <<Scientists use the Greek letter alpha as well, calling them α-helices.>> By making a corkscrew, we can get all the orange on one side and all the blue on the other!
Tip for the pros: Helices can range from 4 to over 40 residues!
Okay, new problem. This sequence is orange, blue, orange, blue. Our corkscrew approach won't work because helices take about 4 residues per "turn," which is why they work well for the 2-2 pattern.
In this case, nature tends to like a different pattern, called a sheet. <<Technically, a sheet generally refers to a group of strands, where the picture below would be a single strand. A helix can be a helix by itself, but strands need to be near each other to be truly considered a "sheet." Scientists also preface sheets and strands with the Greek letter beta, as in, "β-strands." We'll come back to this in Part 10.>>
Sheets are flat, and in Foldit they look zig-zaggy. In a sheet, sidechains alternate which direction they're facing, so blue-orange-blue-orange, becomes all blue on one side and all orange on the other.
Helices and sheets are very stable structures -- they make pretty proteins that hold well together. Residues that aren't helices or sheets are called loops. While loops aren't very stable, they're more flexible than helices or sheets, so they're useful for making turns and connecting structures. These three types of backbone are called the secondary structures (or SS) of the protein. <<The primary structure is the sequence of amino acids.>>
But wait, what are those blue and white stripes in the picture? Those are hydrogen bonds, they form across sheets and within helices, which is part of what makes them so stable. <<Really, a hydrogen bond forms whenever an acceptor atom is adjacent to a donor and they share a hydrogen atom.And that brings me to Fundamental Folding Rule 3: Make Bonds. Hydrogen bonds are the most common, so we'll focus on those for now. They form when one of the small blue dots is close (but not too close) to a red dot. How do you make them in bulk? Just like in the picture: build helices and line up sheets!
Tips for the pros:

Look for all the other ways you can form hydrogen bonds. Sidechains have blue and red dots on them too! Some even have hybrid purple dots (Tyrosine, Serine, and Threonine), which function as blue AND red.)
If you turn on "Show Bondable H" in the View Options, you'll see the white hydrogen dots. Hydrogen bonds (Hbonds) need the white dot to point toward the acceptor and away from the donor.
And that's it! Three simple rules for folding proteins. Of course, it gets more complicated, and it's not always easy to just "add more hydrogen bonds." So in the next part, we'll take a look at some real folds to see what these rules look like in practice. In the meantime, make sure you're on the Foldit Discord. It's a great place to ask questions, get help, and have fun talking to other Foldit players.
Until next time, happy folding!
Summary:
A protein is made of a chain of residues, each with a sidechain, connected along a backbone
There are three types of secondary structures (SS): helices, sheets, and loops
Avoid clashes (stuff too close) and voids (empty spaces)
Orange on the inside, blue on the outside
Make hydrogen bonds by lining up sheets and having helices
Ready to take on the tutorial levels? Here's a quick guide by S0ckrates or you can look up walkthroughs on the wiki. Don't forget to check the FAQs for some basics about Foldit.
Looking for help with coronavirus? LociOiling made a three part video series (1, 2, 3) on the coronavirus puzzles! Susume made a longer video that goes into more depth on the coronavirus puzzles.
<<Want to know more science about an intro to proteins? Check out this video!>>