Partition Tournament Update: Final Week
We are now in the final week of the Protein Design Partition Tournament! We apologize for the delayed update; some unrelated technical problems kept us from running our weekly analysis yesterday. Thank you for your patience!
Today we were able to analyze the results from all current partition puzzles, plus the two regular puzzles that were posted last week: 1580: Partition Puzzle: fiendish_ghoul and 1582: Partition Puzzle: wisky. As you can see in the summary results below, the regular puzzles resulted in many additional solutions, and more thorough exploration of the energy landscapes for the designs by wisky and fiendish_ghoul.
As of 18:00 GMT October 10, the rankings are as follows: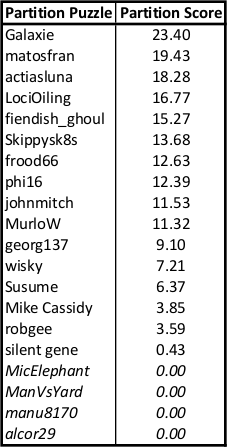 In the final week, we will post regular puzzles for the top four designs in the tournament. Like last week's puzzles, each of these regular puzzles will be available for four days, and players will be able to load solutions from the original Partition Puzzles. Yesterday, we released the first of these, with 1583: Partition Puzzle: LociOiling. Today, we are releasing 1584: Partition Puzzle: actiasluna, and will follow up the next two days with puzzles for matosfran and Galaxie.
Do your best to find high-scoring decoys in these final puzzles! This is your last chance to explore the energy landscapes for these designs before we calculate the final partition functions to determine the tournament winner!
On Tuesday, October 16 at 23:00 GMT, the last of these puzzles will close, along with all remaining Partition Puzzles. On Wednesday, October 17 we will post the final results of the tournament.
Partition Puzzles Summary
Below are the energy landscapes and partition functions for all remaining Partition Puzzles, as of 18:00 GMT October 10. For an explanation of these plots, see this previous blog post.
( Posted by
bkoep

68

419
| Wed, 10/10/2018 - 21:54 |
1 comment
)