Partition Tournament Update: More Challenges
We are now two weeks into Phase Two of the Protein Design Partition Tournament! In the Partition Puzzles, challengers continue to find low energy decoys, revealing more of the energy landscape for each design. The rankings have changed significantly since last week, and we expect them to keep shifting over the next two weeks of the tournament!
As of 18:00 GMT October 1, the rankings are as follows:
This week we will start reposting some of the Partition Puzzles as regular Foldit puzzles. We will focus on puzzles that still have a high partition score, but that have not seen very much activity from challengers. We hope that more people will attempt the regular puzzles, and explore more of the energy landscape for these designs. Any players that have participated in a Partition Puzzle will be able to load their work if it is reposted as a regular puzzle.
The first puzzle to be reposted will be Partition Puzzle (B): fiendish_ghoul. The regular puzzle will be online for only four days, and will close on October 5. Check it out here!
Core Essentials
Unfortunately, another design has fallen out of competition. Partition Puzzle: alcor29 has dropped to a score of 0.00, after challengers found a decoy structure with energy lower than the design, by about 3 kcal/mol (+30 Foldit points). We will be closing this puzzle early, so that challengers can focus on the remaining Partition Puzzles.
Taking a closer look at the decoys from this puzzle, we see that the α-helix and β-hairpin in the foreground can pack in different orientations with the larger β-sheet in the back. We loaded the original design into Foldit with a Core Existence Objective (which was not available in the original design puzzle), and we can see that this design falls short of the typical "30% core requirement" that we like to see in protein designs. In fact, only about 18% of residues in this design contribute to the protein core. The implication is that there are not very many interactions between the different parts of this protein, allowing them to refold in different orientations with minimal consequences.
This result highlights that a substantial, tightly-packed core is essential for a well-folded protein. Good core packing, with interactions between all parts of the protein, helps to ensure that there is one (and only one) stable configuration for the protein!
Partition Puzzles Summary
Below are the energy landscapes and partition functions for the remaining 16 Partition Puzzles, as of 18:00 GMT October 1. For an explanation of these plots, see this previous blog post.
Keep up the good work! There has been a lot of progress since last week's results, but there are surely more high-scoring decoys to be discovered! Check back next Tuesday, October 9 for the next tournament update!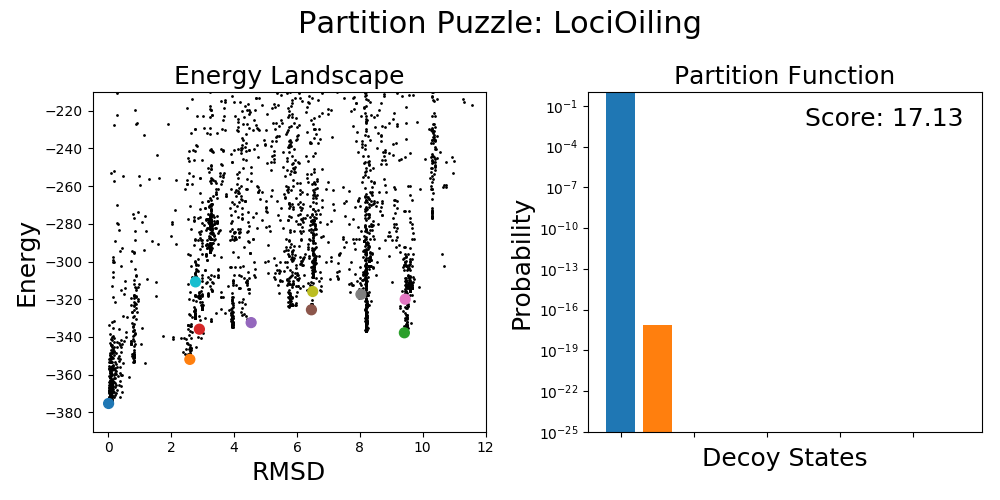 ( Posted by
bkoep

62

500
| Mon, 10/01/2018 - 23:17 |
1 comment
)