Aflatoxin Challenge Update
Foldit Community, we are ready for an Aflatoxin update! Thank you for all your efforts in designing the first round of designs to combat aflatoxin. To date we have had hundreds of players design >400,000 structures! There is a lot to choose from and it has been a fantastic way to start off this effort. Players have been incredibly creative, and have engineered exciting new molecular interactions that truly have the potential to stabilize the aflatoxin hydrolysis transition state we provided in the models. Two examples are below: the first is a pi-pi stacking interaction between a tryptophan and the conjugated ring system of aflatoxin AFB1 (left, Figure 1). If the designed protein is stable enough in this state to provide this interaction in the physical world it would almost certainly position aflatoxin in a manner poised for enzymatic hydrolysis. The second interaction is a classical hydrogen bond with a ketone group (right, Figure 1). Again, these energetically favorable and strong interactions will provide the physical properties needed to stabilize aflatoxin AFB1 in a manner ready for hydrolysis by the naturally occurring catalytic core of the enzymes. We look forward to seeing more of these interactions in subsequent rounds!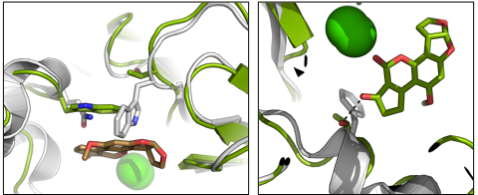 Figure 1. AFB1 interactions in Foldit player designs. In both images the white structure is the native enzyme (starting structure), and the green is a Foldit player design. Left, a double mutation accommodated by some backbone movement enabled a pi-stacking interaction between tryptophan and AFB1. Right, a single mutation and backbone change introduce a hydrogen bond with the ketone group on AFB1. Keep making changes! And remember that it is not only important to interact with AFB1, but also to stabilize the new protein structure to reinforce the AFB1 interactions!
Experimental Charactization
On the experimental front we are excited to announce that we have transferred all methods into a microtiter plate format and have tested the first 100 GeneStrings from ThermoFisher designed by players (Figure 2). These were selected on a variety of factors (~30 of the top scoring based on overall score; ~30 based on top AFB1 energy with above average overall score; best score of 20 players sorted on best scoring designs; all of the player Scientist Shares). While the process from design to data was seamless, unfortunately all of the data was negative (i.e. none of the designs degraded aflatoxin). We are going back to this first round and re-evaluating how we picked designs, as well as going back and refining some of the designs we thought were most interesting ourselves, however in the meantime we want to get another round of puzzles going. Don't lose hope! We expect this will require several rounds of design as we optimize the puzzle and solution selection parameters, as well as start to prepare a few new scaffold proteins to try. But we are confident we will find something in the next few rounds and we appreciate your diligence and efforts in helping solve this global issue!

Figure 2. Workflow from Foldit to experimental data
Next Puzzles
There was great feedback from the community about the original puzzles and we plan to adjust the next puzzles based on this feedback. Most importantly, we plan to trim some of the frozen protein regions, so you can deal with a smaller puzzle and focus on the regions of interest. We may also upweight the ligand scoring, to encourage more interactions with the ligand. Although some players have requested the ability to move the ligand around the binding pocket, we will continue to keep the ligand fixed in place; the ligand's orientation with respect to the catalytic residues is critical if we want the reaction to occur!
We will continue to update you as we go, but we're off to a strong start! Check out Puzzle 1497: Aflatoxin Challenge: Round 5 now!
( Posted by
84
1522
| Wed, 03/14/2018 - 23:04 |
6 comments
)